Foremaster Tire Raw Materials
"Quality serves customers"is a belief
Grade A natural rubber from Malaysia
Synthetic Rubber Imported from Korea
Carbon black High Grade imported from USA
"There are customers after customers, the beginning of service is the beginning of sales."
Steel wire High Level supplied by GM
Textiles Nylon cord support by Hyosung Korea
About Raw Material Purchase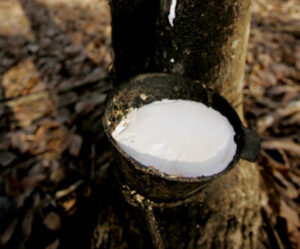 Natural rubber from reliable rubber plantations in Malaysia &Thailand
As is all to known,a tire are produced by more than 200 raw materials among which six parts are essenstial: natural rubber, sythetic rubber, oil, carbon black, metallic elements, textile. Rubber compounds are up to 80% of tyre weight.
Foremaster always selects premium raw materials including fine natural rubber from reliable rubber plantations in Malaysia &Thailand. The oil which works as plasticiser in compound & booster chemicals are also chosen by our tyre experts from world leading suppliers. And to eliminate quality defects that may occur from the quality variation of different batches of rubber, theForemaster tyre manufacturer developed its exclusive compounds portfolio to this effect.
In addition, top quality materials, such as Bekaert steel cord, ExxonMobil Chemical Butyl Polymers, Cobot carbon black, are used to maintain the high standards.
Grade A natural rubber
The natural rubber ensures the softness of the rubber at low temperatures. Natural rubber is widely used in many applications and products, either alone or in combination with other materials. In most of its application forms, it has a large stretch ratio and good elasticity, and is very waterproof
Synthetic Rubber Imported from Korea
Rubber has good elasticity, and using rubber as tires can reduce the sense of turbulence in driving.It has a great impact on rubber processing and molding, which will affect the quality of the final product
Carbon black High Grade imported from USA
Carbon black can improve the physical properties of rubber to a large extent and is an indispensable reinforcing agent in tires. For automotive tires, the most significant is the correlation between reinforcement and rubber wear
As China tire manufacturer-Foremaster tire company, we firmly believe that quality is essential in serving our customers. We know that our customers rely on us to provide them with tire products and services that meet their needs and exceed their expectations, and that is why we hold ourselves to the highest standards of quality.
For us, tire quality is not just a buzzword or a tagline – it is a core belief that guides everything we do. From our manufacturing processes to our customer service, we strive to deliver the highest quality in every aspect of our business. We are committed to investing in the latest technologies and tools to ensure that our products are of the highest quality and will stand the test of time. And we are always listening to our customers' feedback so that we can continue to improve and evolve as a company.
So when you work with us, you can rest assured that you are receiving not just a tire product or service, but a commitment to quality that runs deep in our DNA.